Cicer (Chickpea)
Cicer is a genus of the legume family, Fabaceae, and the only genus found in tribe Cicereae. It is included within the IRLC, and its native distribution is across the Middle East and Asia. Its best-known and only domesticated member is Cicer arietinum, the chickpea.
NCBI taxonomy ID: 3826
Tools and resources for the genus as a whole
InterMine interface for accessing genetic and genomic data for several species in Cicer.
Genotype comparison visualization tool.
Browser for dynamically discovering and viewing genomic synteny across selected species.
Geographic information system viewer, showing collection locations for Cicer data held by the U.S. National Plant Germplasm System.
Tools and resources for particular species
---
Cicer arietinum: chickpea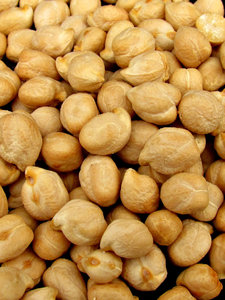 Chickpea (Cicer arietinum) is a legume species in the group of 'cool-season' legumes, along with lentil, pea, faba bean and clovers. Chickpea is one of the earliest cultivated legumes: 7,500-year-old remains have been found in the Middle East. Other common names for the species include garbanzo bean, ceci bean, sanagalu, chana and Bengal gram. There to are two main types of cultivated chickpeas based on seed morphology, desi and kabuli. The desi type of chickpea consists of seeds with a yellow interior but have a thick, wrinkled and dark seed coat, the seeds are approximately 6 to 7 mm in size. The majority of desi chickpeas are split in half to make Chana Dahl. Whereas, the kabuli type of chickpea are lighter in color, have a smooth seed coat and about 8 to 9 mm in size. The kabuli type of chickpeas are the most common type found in America.
NCBI taxonomy ID: 3827
No resources are currently listed for Cicer arietinum
Cicer arietinum accessions
CDCFrontier
(Canada)
Chickpea variety CDC Frontier is a kabuli type chickpea (light-seeded), selected as a variety in Canada. The genome has been sequenced: Varshney et al., 2013 (DOI:10.1038/nbt.2491)
ICC4958
(India)
Chickpea variety ICC 4958 is a desi type chickpea (dark-seeded). The genome has been sequenced: Parween, S et al., 2015 (DOI:10.1038/srep12806)